One of the proudest moments of my life came the day that the CNBC producer called to tell me that the article I had written on Jim Cramer was the single meanest thing she had ever read in her life and that I was banned from CNBC forever.
The article in question, "Jim Cramer Is a Complicated Man," is largely composed of quotes from Jim's own writings, with some minimal explication from me. Though Jim's confessions are tawdry enough to make a pimp squirm, since that piece largely draws upon extensive quotes from Jim's own writing I do not see how it can be called, "mean". I do know that various people (e.g., a Georgetown Law School professor friend) who read it have upon completion expressed dumfounded disgust at Cramer.
There is also, of course, the additional issue of the video I caused to be supplied to Comedy Central a year later, a video which Jon Stewart used to publicly humiliate Jim Cramer in a way that in any sane world would have left Jim lucky to be delivering weather forecasts from Butte, Montana.
Thus I was surprised to see on June 5, 2014 Ms. Becky Quick declare on air that she "would love to have Patrick [me] on" CNBC, followed by Joe Kernan's faux-bewildered account deliberately distorting my early and prescient criticisms of Wall Street. I was not surprised, however, to see Jim Cramer coyly declare that Overstock.com is the one stock in the universe of stocks upon which he will not comment.
I immediately posted a blog accepting Ms. Quick's invitation ("My Response to Becky Quick's Proposal: I Do"). Naturally, since the moment that I picked up the gauntlet that the three of them threw down that morning, CNBC has gone dark. No one there, not a journalist, not a producer, not a technician, will reply to my  request that they simply name a time and place for me to appear.
Then recently a post over at Zerohedge ("CNBC Viewership Plunges to 21 Year Low") brought to light the sad news of the utter collapse of CNBC's viewership: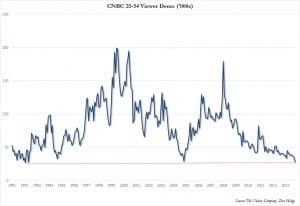 CNBC, I'm here to help. Why not make good on your statement that you "would love to have me on" CNBC, and schedule an appearance? Make it live, promote it ahead of time, and we'll draw some numbers together.
Respectfully,
Patrick M. Byrne
Journalist, DeepCapture.com
PS Live broadcast only, naturally.