Bidz.com is an online auction company which went public in May of 2007. Take a look at the company's relatively short price history, to see if you can spot the abrupt 49% drop.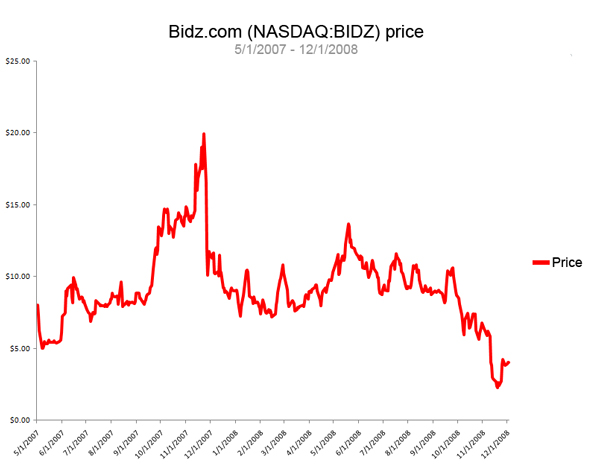 (If you chose November 23-28, 2007 you win the Deep Capture home game!)
To better understand what was going on during those four trading days, let's zoom in to look at just Bidz.com's first seven months, and include each day's failed trades.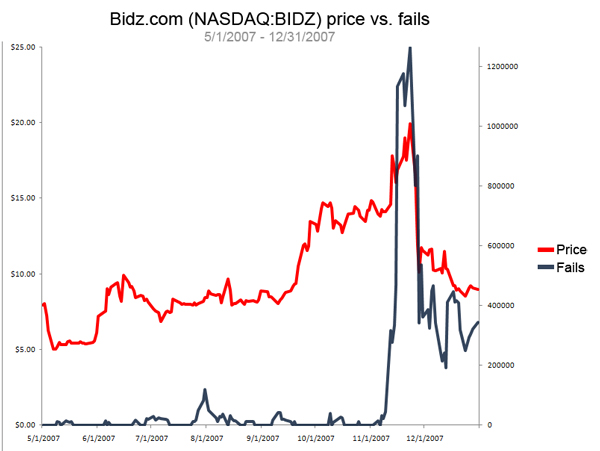 As any regular readers of this blog might have predicted, that 49% drop was accompanied by a similarly anomalous jump in BIDZ settlement failures to deliver (FTDs).
Indeed, during its first 136 days of trading, BIDZ, with a float of under 12-million shares, experienced about 1.5-million FTDs, an average of about 11,000 per day.
Then, in the nine trading days between November 12-23, 2007, nearly 7.2-million shares — averaging nearly 800,000 per day — failed to settle, resulting in a tremendous, artificial swelling of supply of BIDZ shares.
To better understand what happened next, let's take a closer look at that spike in fails and drop in price, in relation to a particular external event.
November 26, 2007 (highlighted in yellow) marks the date of publication of an attack on BIDZ by short selling blogger Andrew Left of Citron Research (formerly known as "Stock Lemon"). The report made a few subjective observations relating to BIDZ's inventory levels, as well as revealing the criminal record of one of the company's vendors: neither of which were good news, but hardly bad enough to justify cutting its share price in half.
This episode is instructive on two levels.
First, it offers insights into how the criminals engaged in the kind of manipulative short selling observed here use other — often engineered — events as "cover" for their activities.
Second, it provides conclusive proof that either Andrew Left's Citron Reports is a tool of these illegal naked short selling hedge funds, or those hedge funds have clairvoyants on staff.
Given how poorly things have gone for these folks now that illegal naked short selling has grown increasingly difficult to engage in, I'm leaning toward the former.
If this article concerns you, and you wish to help, then:
1) email it to a dozen friends;
2) go here for additional suggestions: "So You Say You Want a Revolution?"