One of the arguments made with metronomic regularity by those defending stock manipulation, and unthinkingly regurgitated by their lapdog financial reporters, is this: Demonstrate the harm caused by naked short selling (the fact of its illegality being too conceptually difficult for them to grok). Well, here is a good example.
Dendreon (DNDN) is "a biotechnology company, engages in the discovery, development, and commercialization of therapeutics to enhance cancer treatment options for patients. The company's product portfolio includes active cellular immunotherapy, monoclonal antibody, and small molecule product candidates to treat various cancers." For the last few years its operations have burned through $66 million to $80 million per year (a not-unusual pattern for pharmaceutical firms researching and developing cures for diseases like cancer).  As it stands, its balance sheet looks like it could support perhaps one more such year without additional capital raising. However, given the $5 share price at which Dendreon has been hovering, such additional capital raising would dilute the owners about 20%, assuming that it is possible in the current environment.
It turns out that the collapse of DNDN from over $20 to that $5 price was accompanied by massive levels of naked shorting. At one point, 18 million shares were unsettled (about 20% of the ownership of the company). It cannot be repeated too often: That is just the data coming from one crack in the system, the CNS bucket at the DTCC, and does not include any fails accumulating at the brokerages, or diverted by pre-netting, or masked by the Stock Borrow Program, or swept into the ex-clearing system, or stemming from offshore failures. So it is the tip of the iceberg (and perhaps, the tip of the tip of the iceberg).
As is so often the case, manipulations in Dendreon stock coincided with all that we have come to expect: surprise rejection of its drug Provenge by the FDA, endless bashing from the likes of the Media Mob and Jim Cramer the Self-Confessed Crook, and other strange incidents soon to be explored by my Deep Capture colleague, journalist Mark Mitchell.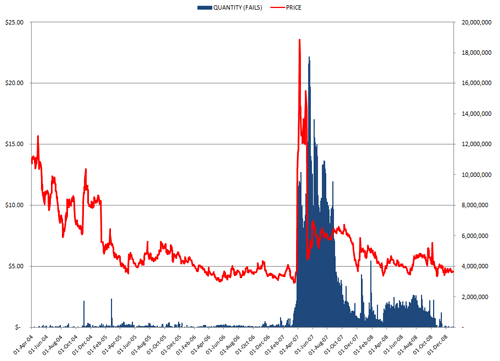 Click image to enlarge
Of late, this story has taken a happy turn. On April 14 Dendreon released prelimary results of their prostate cancer vaccine trials (details of which will be disclosed at this coming week's American Urological Association's (AUA) Annual Meeting in Chicago) showing that Provenge works. It prolongs the lives of men with advanced stage prostate cancer.  Its stock promptly quadrupled, which will make getting financing easy (Investors Business Daily, "Prostate Cancer Drugs Get Street's Attention").
I will assume that most readers agree that it is a good thing that Dendreon managed to survive long enough to see this day, and that it would have been a bad thing if illegal stock manipulation had suppressed Dendreon's stock until they ran out of cash and could raise no more (as they say in intro logic classes: "If not, work the proof out on your own"). Which makes this serve, of course, as answer to the challenge that opened this essay.
Given that, one may then ask of those journalists who defend the right of hedge funds to destroy firms they wish to destroy, that is to say, of DowJones' Carol Remond and Karen Richardson, of Fortune Magazine's Roddy Boyd and Bethany McLean (now at Vanity Fair), of New York Times' Floyd Norris and Joe Nocera, of Herb Greenberg hiding behind vapid emails and Dave Kansas hiding under his desk, of NY Post/Portfolio Magazine's Dan "Crusher" Colarusso and CNBC's Jim Cramer the Crook: Do you get it now? Do you understand why illegal stock manipulation is wrong, and can impose costs on society it was your duty as journalists to explore? You purveyors of reportorial Velveeta, you lazy and captured, half-educated and dim-witted, snarky, insufferable, conformist and indolent pseudo-intellectual lickspittles, do you get it now? You are sell-out journalists who grovelled to your sources, missed the story of your careers, and in the eyes of an increasing fraction of the public, rank just below pedophile priests.
If this essay concerns you, and you wish to help, then:
1) email it to a dozen friends;
2) email The Story of Deep Capture to a dozen friends;
3) go here for additional suggestions: "So You Say You Want a Revolution?"