Among the disturbing facts contained in the recently unsealed documents obtained via discovery in the Fairfax Financial (NYSE:FFH) vs. SAC Capital, et al, lawsuit are the lengths to which short-selling hedge funds go to attack the leadership of the companies they've designated for destruction.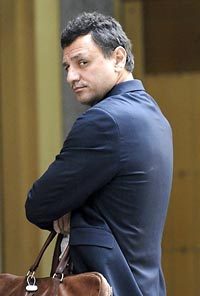 In the case of Fairfax, when the work of corrupt Morgan Keegan stock analyst John Gwynn and thestreet.com columnist Peter Eavis failed to get the job done, a "real" expert was called in; namely: Spyro Contogouris of MI4 Reconnaissance.
Contogouris and MI4 employee Max Bernstein were hired by Exis Capital Management, among the smaller of the half-dozen hedge funds comprising the "Enterprise" targeting Fairfax, in early 2005. Their primary mission was to gain access to material non-public information from sources in and around Fairfax. Their secondary mission seems to have been harassment of Fairfax executives, both public and private.
This effort got off to an impressive start, in the form of a 30-page document anonymously sent by Bernstein to Rev. Barry Parker, head of the Toronto church attended by Fairfax CEO Prem Watsa. The gist of Bernstein's package was as follows: Prem Watsa bears a striking resemblance to a convicted swindler named Marty Frankel, and even if Watsa is not Frankel, Rev. Parker should beware and call Watsa to repentance for Fairfax Financial's accounting.
In December of 2005, Contogouris and Bernstein created premwatsa.com, an attack site. In one exchange of instant messages, the two discuss how to use posts planted on stock message boards to build traffic to the site, and blithely speculate as to how Watsa and other Fairfax officers will react upon discovering it.
Meanwhile, Contogouris created a document, since discredited, dubbed "Fairfax Fraud Facts", which he circulated broadly among journalists and analysts. This document sparked substantial negative coverage of Fairfax.
It was possibly in this context that, in an undated instant messenger exchange, Andrew Heller, manager of Exis Capital, told Bernstein: "tell spyro, bloomberg was taken care of, and he will receive payment."
I contacted Heller, seeking context to clarify this potentially significant tidbit, but he refused to comment, citing the ongoing nature of the Fairfax lawsuit. The only thing of any substance Heller would say was that his hedge fund remains "up net 15% on the year."
Congratulations, Mr. Heller.
MI4's effort to secure inside information ramped up significantly in May of 2006.
On the 29th of that month, MI4 created the following "Intelligence Profile" on an officer of Fairfax (whose name is redacted):
On May 31st, Contogouris, posing as a reporter, gained access to the back offices of that Advent Group, a Fairfax subsidiary in London, trolling for potential insiders to act as sources.
The next day, Contogouris personally delivered a package to Advent Group CFO Trevor Ambridge, asking that Ambridge provide inside information or risk criminal prosecution.
From his emails, one gets the impression that this is the sort of thing Contogouris quite relishes. However, presently things would take a rough turn for the self-styled corporate spy.
The first blow came six weeks later, when Fairfax named Contogouris in the lawsuit that led to the document production that led to this post.
The second, more severe blow came in November of 2006, when Contogouris was arrested by the FBI, charged (and subsequently indicted) with engaging in an unrelated multi-million-dollar real estate fraud.
While this came as a surprise to many, seasoned observers might have predicted something negative was about to happen to Contogouris when, in late September of 2006, apropos of nothing, Rocker Partners order-taker and former New York Post business writer Roddy Boyd, wrote FBI'S SECRET SOURCE, claiming:
"An FBI spokeswoman confirmed to The Post that Spyro Contogouris, who analyzes companies' balance sheets, was deputized by the FBI in June to approach Fairfax's former chief financial officer, Trevor Ambridge, as part of an investigation into the insurance company's accounting and stock trading."
It's worth noting that none of the other writers following up on Boyd's story — myself included — managed to get FBI confirmation of the supposed "deputy" status bestowed upon Contogouris.
In fact, the United States Senate Judiciary Committee found Boyd's claim sufficiently strange to specifically ask FBI Director Robert Mueller about it, three weeks after Contogouris was arrested. Mueller's response (see pages 70 and 71) was simple:
"The FBI does not "deputize" members of the general public."
So what was motivating Boyd and Contogouris?
For Boyd's part, that's simple: as is revealed in documents unsealed in the Fairfax case reveal, (documents which I will be examining here shortly), Roddy writes what certain short-selling hedge funds tell him to write.
As for Contogouris, I suspect that, aware of the trouble looming on the real estate front, he made contact with the FBI as a "confidential informant" (something you or I could do at any time) seeking to ingratiate himself with that agency, possibly earning what he expected would be some form of immunity from other prosecution in the process. Then, fearing that despite these efforts his arrest was imminent, Contogouris used his hedge fund contacts to plant the story with Boyd, hoping the feds would be too embarrassed to nab someone they apparently trusted enough to "deputize".
Four months after his arrest, the story of Spyro Contogouris and Fairfax was examined at length by another high profile business writer, who practically tied herself in a knot attempting to distance Contogouris from Fairfax's attackers while simultaneously lending credibility to his work.
The author of that piece was none other than Bethany McLean.
To quote my friend Patrick Byrne: "If only there were a pattern."
If this article concerns you, and you wish to help, then:
1) email it to a dozen friends;
2) go here for additional suggestions: "So You Say You Want a Revolution?"