Most of the examinations of stock manipulation published here on deepcapture.com take place after the fact, the damage being done. However, we've become aware of instances of apparently illegal, manipulative trading in several companies' stocks, happening right now, which we have the ability to monitor and report on in nearly real time.
I'll start with Sears Holdings Corporation (NASDAQ:SHLD).
A few months ago, an unusual trading pattern in shares of Sears emerged, in which large blocks of shares change hands within minutes of deep in-the-money call options equivalent to precisely the same numbers of shares in these blocks. This behavior is consistent with the illegal "reset" transaction described in the enforcement case brought by the SEC against naked short seller Steven M. Hazan:
"…a market participant who has a "fail-to-deliver" position in a threshold security buys shares of that security while simultaneously selling short-term, deep in-the-money call options to – or buying short-term, deep in-the-money put options from – the counterparty to the share purchase. The purchase of shares creates the illusion that the market participant has satisfied the close out obligation of Reg SHO. However, the shares that are apparently purchased in the reset transactions are never actually delivered to the purchaser because on the day after executing the reset, the option is either exercised (if a call) or assigned (if a put), transferring the shares back to the party that apparently sold them the previous day. This paired transaction allows the market participant with the fail-to-deliver position to effectively borrow the stock for a day, in order to appear to have satisfied the close out requirement of Rule 203(b)(3)."
If you want to see each of these reset transactions in detail, you can do so here. But if you're content with the bottom lines, take a look at the following table, keeping in mind each call option contract gives the buyer the right to purchase 100 shares of the underlying stock (meaning, these trades were undeniably "matched" to one another).
Date
Call option contracts
Equities block size
Date
Call option contracts
Equities block size
12/3/09
6,166
616,600
1/4/10
10,374
1,037,400
12/4/09
6,194
619,400
1/5/10
10,368
1,036,800
12/7/09
6,369
636,900
1/6/10
10,610
1,061,000
12/8/09
6,668
666,800
1/7/10
10,972
1,097,200
12/9/09
7,287
728,700
1/8/10
16,032
1,603,200
12/10/09
7,749
774,900
1/11/10
15,106
1,510,600
12/11/09
7,958
795,800
1/12/10
15,050
1,505,000
12/14/09
8,376
837,600
1/13/10
15,107
1,510,700
12/15/09
8,387
838,700
1/14/10
15,054
1,505,400
12/16/09
8,876
887,600
1/19/10
8,403
840,300
12/17/09
8,654
865,400
1/20/10
8,483
848,300
12/18/09
4,767
476,700
1/21/10
8,321
832,100
12/21/09
6,598
659,800
1/22/10
8,352
835,200
12/22/09
6,918
691,800
1/25/10
8,535
853,500
12/23/09
7,433
743,300
1/26/10
8,561
856,100
12/24/09
8,444
884,400
1/27/10
8,622
862,200
12/28/09
8,773
877,300
1/28/10
8,490
849,000
12/29/09
9,087
908,700
1/29/10
8,326
832,600
12/30/09
9,459
945,900
12/31/09
9,830
938,000
Take a look at how these blocks trades appear when charted.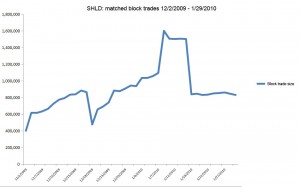 Looking at the relationship between these matched blocks and the delivery failure data currently available suggests the blocks are a pretty reliable predictor of delivery failures reported two days later.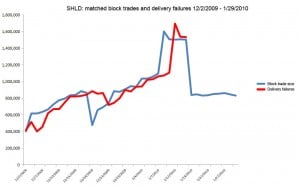 Moving fails back two trading days we see just how reliable a predictor these matched block trades really are.
On average, SHLD fails are roughly 102% of these matched blocks. Given that relationship, I feel quite confident predicting how the as-yet-unreleased SHLD delivery failures will appear (note the dashed line).
Now for the good and bad news inherent to this situation.
The good news is: this unusual market activity is fairly easy to spot.
The bad news is: despite being easy to spot, in recent months multiple companies have come under identical attack, suggesting whoever is responsible is not too concerned about the consequences of overtly violating the securities laws…a familiar situation for anybody who's followed deepcapture.com for any length of time.
I'll have more on this subject as soon as the SEC fails data are released, so stay tuned.