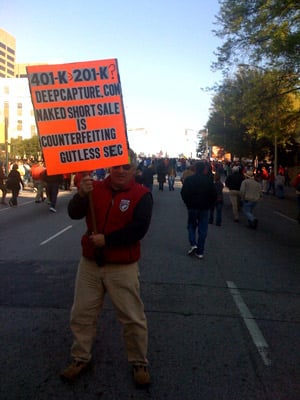 An intrepid Deep Capture supporter
Deep Capture is not just a few journalists investigating the biggest financial scandal of our era. It is part of a much larger effort – a movement that is supported by countless people.
It is the former high-level banker who makes sure his senator reads our articles. It is the man in Boston who volunteers his time to help us research connections between market manipulators and organized crime. It is the PhD who works in the humanities, but has nonetheless produced dozens of erudite reports on the intricate mechanics of stock delivery failures.
It is the tough businessman who has filled his garage with boxes containing evidence of short seller miscreancy. It is the Wall Street insiders who have given us tips and valuable information. It is statisticians, economists, and investigators who have toiled long hours — identifying trading patterns that suggest that illegal naked short selling is a much bigger problem than we had previously believed.
It is the bloggers and former stock brokers who warned the world about abusive short selling long before Deep Capture was founded. It is the many people—unorganized and unpaid–who go on Internet message boards to do battle with organized bashers who are paid by hedge funds to whitewash the naked short selling scandal.
It is former government officials, academics, and business people who are lobbying for reform. It is the hundreds of people who have sent us letters of support, and the thousands of people who have contacted the media, the SEC, and members of Congress.
It is a great many more people–millions of people, we reckon–who have come to recognize that abusive short selling was perhaps the most important factor in the near total collapse of our financial system…millions of people who are telling other people that this nonsense must be stopped or things will get much, much worse.
To all of these people, we say, "Thank you — and welcome to the Deep Capture team."
And to the man in the photo, we say, "You are awesome."
The photo was taken at one of the "tea parties" held across the nation last week.  We did not know this man until a few weeks ago. But he has years of relevant experience and firsthand knowledge of the markets. We did not ask him to lug that sign around all day. He took it upon himself to help us get the word out.
That so many others are doing the same is a testament not to Deep Capture, but to the deadly seriousness of the crimes that we seek to expose.
* * * * * * * *