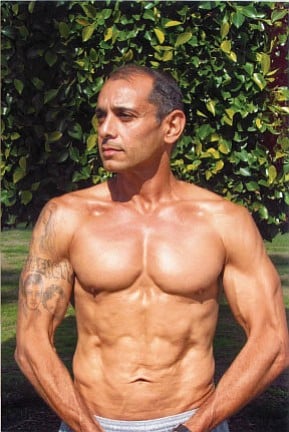 By now astute readers of DeepCapture have gathered that over the years I have developed a soft spot in my heart for the assorted brigands, cutpurses, swindlers, and crooks who inhabit these pages. One must keep in mind that they have looted the savings of millions, of course, and some of them are terrorists who wish to harm to our country, but when I was an altar boy I learned that even when rage-stomping bullies and miscreants I would invariably feel a twinge of sympathy. So perhaps it is a legacy of that misspent youth, but when I learned last night that Anthony Elgindy (AKA "Amir Elgindy" AKA "Tony Pacific") killed himself Thursday, I confess that my chuckle  had a certain sad edge to it. Call me sentimental.
Amir Elgindy was an Egyptian with ties to the Muslim Brotherhood who immigrated to America and, like some others from that neck of the woods, gave himself an Italian name upon arrival. Here he engaged in various forms of stock market mischief. In 2000 he was indicted on nine counts of insurance fraud, and pled guilty to a mail fraud count on which he served four months in federal pen. In 2003 the NASD fined his brokerage, Key West Securities, and expelled Elgindy because he "engaged in a manipulative scheme in 1997 to inflate artificially the share price of Saf T Lok, Inc. through the entering of fraudulent quotations in the Nasdaq system, selling the stock short at the artificially high prices, and then taking active steps to depress the share price of Saf T Lok through the dissemination of negative research comments" (i.e., what is known in the parlance as "a pump-and-dump").
But Elgindy's real genius manifested itself in the late 1990's when he set up a cleverly-designed password protected website on which various criminals (about 60-70 in all), shielded from public scrutiny, coordinated illegal short-and-distort market manipulation schemes. I say, "cleverly designed" because it was rigged as a message board on which one could not scroll backwards. Day and night various criminals would openly discuss which firms to target next, what brokerages were giving loose locates to enable illegal naked short selling, and which toady journalists had been fed stories they had agreed to publish, and when.
Unfortunately for Anthony Elgindy, one of his closest friends was not, in fact, loyal to him. This friend hired assistants to sit at computer screens around the clock, 24/7/365, hitting "Print Screen" every couple of minutes and making physical record of all that was said in this chat room for nearly three years. Many years ago I obtained an attic full of bankers boxers filled with these print outs, which, incidentally, I caused to be scanned and stored with a law firm for posterity. Some future historian working to recreate the evolution of Wall Street criminality in the decade leading up to the Crash of '08 could find no better place to start than working through these tens of thousands of pages of print-outs, which are available for the asking (come to think of it, maybe it is time I just cause it all to be posted online myself, probably on one of those Dutch servers that is immune from subpoenas and lawsuits). Therefore, unscrambling the various relationships among the miscreants I pursued on Wall Street was far easier than it may have appeared to outsiders. There they were, in black and white:
One hedge fund manager rejoices in the compliance of pseudo-journalist Herb Greenberg (of Jim Cramer's thestreet.com), opining, "maybe when thestreet.com folds we can hire Herb to work exclusively for us" (NB: they did, and that describes Herb's subsequent career at CNBC and ever after, until he faded into obscurity).
Dave Kansas, also of Jim Cramer's TheStreet.com. Dave Kansas went on to edit the C Section of the Wall Street Journal, where I first crossed paths with him in 2002 when he degraded a story on Bill Hambrecht's Dutch Auction IPO as a favor to the Wall Street firms he has spent his career dutifully servicing with all the verve and imagination of a lifer in a Tijuana hump-hump bar.
Carol Remond of DowJones.  Later I tangled with Carol Remond on occasion and she became the object of my journalistic attention: see one of my favorite pieces, "Carol Remond Tells a Joke She Doesn't Get", in which she engages in debasing apologetics for the failure of David Rocker's hedge fund, which collapsed in October 2008 through no fault of its own (Carol maintains), but (no kidding, this was her position) simply because in September 2008 rules were adopted preventing Rocker Partners from breaking the law anymore.
Bloomberg's Dave Evans, it is written,"gave us SPBR for free-been very profitable."
Dan Loeb, now a well-known New York hedge fund manager, who got his start on Elgindy's board using the pseudonym "Mr. Pink", once wrote of Dave's willingness to be spoon fed stories to regurgitate on cue in Bloomberg (stories in front of which this syndicate of hooligans could trade). For his services "Dave Evans is a made man," wrote now-respectable hedge fund manager Dan Loeb.
Elgindy furthered this stock picking "prowess" by bribing two FBI agents to feed him advance knowledge of federal investigations against companies, information in front of which, again, he and his gang of merry miscreants could trade.  He would have gotten away with it forever, I think, but on September 10, 2001, he called his Smith Barney broker and told him to liquidate his (Elgindy's) stocks, saying that "tomorrow the Dow is going to 3,000" (it was 9,600 at the time). The next day when planes hit buildings the Smith Barney broker called the feds, who rolled up Elgindy and his stock discussion board. At trial the federal prosecutors decided to leave aside mention of their belief that Elgindy had prior knowledge of 9/11 on the grounds that it was too inflammatory: knowing he was losing the trial, however, Elgindy's lawyer started bringing up such allegations, which opened things up for the feds to discuss them in court. That part of the trial transcript was later sealed by the judge, but in 2007 an enterprising Bloomberg journalist named Gary Matsumoto managed to obtain them from a Brooklyn court storage facility, and it is clear that the feds absolutely believed that Elgindy knew about 9/11 the day before it occurred.
Elgindy was convicted on those charges of bribing FBI agents. Between his conviction and his sentencing he was under house arrest in his home near San Diego. When he showed up to the court for sentencing, he came with only 9 fingers, the other having been lost "in a beach barbecuing accident," he told the judge. When the prosecutor pointed out that Elgindy had been under house arrest and unable to access a beach, Elgindy changed to another improbable story. A person central to the case later told me that certain elements of Organized Crime had shown up at Elgindy's house while he was awaiting sentencing, told him that if he talked while he was in prison they would skin Elgindy's wife alive, took Elgindy to his basement, and at gunpoint forced him to saw his own finger off with a hacksaw, the better to remember the tutorial.
Elgindy was subsequently sentenced to 11 years in federal prison. While in prison he followed my activities closely, even obsessively.  As a result, I made arrangements for an associate of mine to befriend Elgindy (under pretense) through email, and he actually received permission to visit Elgindy in prison in 2006. Three days before my associate's visit, the Federal Bureau of Prisons revoked my associate's permission, moved Elgindy to isolation, and refused my colleague further communication with Elgindy. How odd.
Elgindy was released from prison in January, 2014, having served nine years in total. Evidently the strain of it all was too much for the poor fellow, however, and Elgindy killed himself three days ago (Thursday, July 23, 2015). Details of his demise and whether or not it was another "beach barbecuing accident" have not yet been made public.