Note: This was written and originally published in May of 2012. I republish it now for no good reason other than a recrudescence of disgust.
The first time I heard Joe Floren speak I was standing behind him in an elevator in his law firm's San Francisco office tower  as another lawyer informed him that the subpoena Joe Floren had served the previous day on a colleague of mine had reached her in the hospital, after a difficult delivery of her first child, while she was breastfeeding for the first time.
Gleefully Joe Floren replied, "Really? That's beautiful. I love it!"
(Joe Floren with insecure little goatee)
Joseph E. Floren, Esq., is a lawyer at Morgan Lewis, the white shoe law firm defending Goldman Sachs against Overstock's prime broker litigation, and tonight I celebrate the mistake Joe Floren made yesterday.  In filing Goldman's response to Overstock's motion to vacate the trial court judge's decision to stay his own decision to unseal various documents related to this litigation (in more straightforward English: the trial court judge decided to unseal some documents while also deciding to delay acting on his decision, but we objected to this delay, and Goldman responded to our objections), Joe Floren screwed the pooch. He filed something containing an attachment he forgot to redact. That attachment is a previous filing of Overstock's, a filing which contains but a sample of the shenanigans at Goldman and Merrill that has turned up over the course of five years and millions of pages of discovery, but which filing we had redacted when we made it (as good litigants do).
Fortunately for the cause of all that is good and right about America, Joe Floren's goof came to the attention of a diligent 1st amendment attorney in California named Karl Olson, who represents the Economist, Bloomberg, the New York Times and Wenner Publications (owners of Rolling Stone magazine) in their efforts to obtain the documents.  Karl Olson provided Joe Floren's sloppy filing to his clients. Tonight these stories appeared:
Rolling Stone: Accidentally Released – and Incredibly Embarrassing – Documents Show How Goldman et al Engaged in 'Naked Short Selling' 
 Bloomberg: Goldman, Merrill E-Mails Show Naked Shorting, Filing Says
Economist: An enlightening mistake 
Really, Joe Floren?  That's beautiful.  I love it.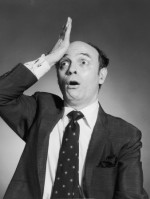 How Joe Floren looks to his colleagues, per Above the Law