Two months ago a schlubby-but-savage Goldman lawyer named Joseph E. Floren made a mistake that caused some previously redacted information about Goldman Sachs to slip into the public's hands. The event  was ably covered by such globally-respected publications as Bloomberg, the Economist, and Rolling Stone.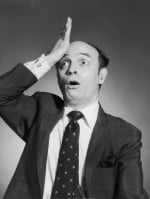 Rolling Stone: Accidentally Released – and Incredibly Embarrassing – Documents Show How Goldman et al Engaged in 'Naked Short Selling'
Bloomberg: Goldman, Merrill E-Mails Show Naked Shorting, Filing Says
Economist: An enlightening mistake
Leading legal blog "Above the Law" described the situation this way: "It has been quite a while since we have covered a grand mal discovery screw-up here at Above the Law," and summarized the moment with the accompanying image.
And seminal law journal DeepCapture.com published its May, 2012, analysis entitled "Joe Floren Screws the Pooch", referencing the Bloomberg, Economist, and Rolling Stone stories cited above.
Since May I have wondered, With the truth emerge at last in publications such as Economist, Bloomberg, and Rolling Stone, surely the Bad Guys must understand they have lost control of the narrative. Surely, I thought, they are working out some new damage control strategy  to deflect or usurp the truth  as it comes out.
And as always, Gary Weiss doesn't let us down.
This weekend brought forth from Weiss an effort that takes the same facts as the articles cited above, spins them to best advantage for the criminals, and is most remarkable for being an obvious rip-off of Taibbi. That's right, Barron's published an essay cribbed from a previously-published essay by a competing magazine's journalist in a plagiarization so bald it would not pass muster at one of those companies that sells term papers to college undergraduates. Moreover, it presents clear evidence that the Bad Guys realize they have lost control of the narrative, and are searching for ways to restore their control.
Alas, the best weapon they have in their arsenal is…. Gary Weiss?
I encourage readers to compare Taibbi's article side-by-side with Weiss' treatment of exactly the same set of documents.
Matt Taibbi, Rolling Stone (May 15, 2012):
Accidentally Released – and Incredibly Embarrassing – Documents Show How Goldman et al Engaged in 'Naked Short Selling'
Gary Weiss, Barron's (August 4, 2012):
Documents accidentally unsealed from Overstock.com's failed lawsuit against prime-broker units of Goldman and Merrill Lynch raise questions about short sales.
Matt Taibbi:
 "The lawsuit between Overstock and the banks concerned a phenomenon called naked short-selling, a kind of high-finance counterfeiting that, especially prior to the introduction of new regulations in 2008, short-sellers could use to artificially depress the value of the stocks they've bet against. The subject of naked short-selling is a) highly technical, and b) very controversial on Wall Street, with many pundits in the financial press for years treating the phenomenon as the stuff of myths and conspiracy theories."
Gary Weiss (two months later):
"Naked short selling has long dwelled in the grassy knoll of the equity markets, denounced by crackpots, devotees of penny stocks, and troubled companies eager to divert attention from their failings. In other words, sightings of it often turn out to be bunk.
"Despite this, a failed naked-shorting lawsuit lodged against all of the major Wall Street prime brokers, including units of Goldman Sachs Group and Merrill Lynch, by Overstock.com, has raised intriguing issues. The case, filed in California Superior Court in San Francisco in 2007, was summarily dismissed in January on a technicality;…"
Matt Taibbi:
"A quick primer on what naked short selling is. First of all, short selling, which is a completely legal and often beneficial activity, is when an investor bets that the value of a stock will decline. You do this by first borrowing and then selling the stock at its current price; then, after the price drops, you go out, buy the same number of shares at the reduced price, and return the shares to your original lender. You then earn a profit on the difference between the original price and the new, lower price.
"What matters here is the technical issue of how you borrow the stock. Typically, if you're a hedge fund and you want to short a company, you go to some big-shot investment bank like Goldman or Morgan Stanley and place the order. They then go out into the world, find the shares of the stock you want to short, borrow them for you, then physically settle the trade later."
Gary Weiss (two months later):
"NAKED SHORTING—selling stock that the seller doesn't have and hasn't borrowed, in the hope that its price will quickly fall, letting the seller repurchase it at a lower price and then deliver the stock to the buyer—is generally illegal. Usually, sellers must borrow a stock, or at least determine that they can borrow it, before they can sell it short."
One can go through this new article doing this one-to-one mapping of content and tone from the August piece by Gary Weiss onto Matt Taibbi's story from May.  It's all rather creepy, actually.
It is an attempt to re-highjack the narrative. I predict that however this plays out over the next couple of years you will see Weiss tagging along trying to reconstruct the story to the benefit of the criminal element described in DeepCapture. He's obsessive. It is almost as if his job is to downplay, minimize, and cover-up in vain attempt at damage control.
No, it's exactly as if his job is to downplay, minimize, and cover-up. We'll see how vain it is when we see what publications go along for the ride, besides Barron's.
That, of course, is the most remarkable thing of all: That a publication like Barron's would publish something by Gary Weiss, given what has long been publicly documented about him. We know, because we documented it. Newcomers to this story might start with the Reader's Digest version by reading "Gary Weiss: Psychopath and Scaramouch". For the graduate course on this psychopath, look him up on antisocialmedia.net.
I think, however, that this was a strategic mistake by the Bad Guys, in that it provides the public (and importantly, other journalists!) with a controlled experiment: one set of facts being handled by three real journalists and one hedge fund choagie.
Perhaps decades from now it will be a case study in some school of journalism's graduate seminar on "Journalism and the Fall of the American Oligarchy, 2008-2014":
"OK students, the assignment for next week's class is a paper that examines Goldman's inadvertent release of those its documents as treated by Bloomberg, Economist, and Rolling Stone, versus how the same event was treated by Gary Weiss, a pseudo-journalist who had already been exposed long before that as a hedge fund shill. For extra credit, describe the significance of its publication in Barron's: Did Barron's willingness to publish an obvious rip-off of Matt Taibbi reflect the desperation felt by the Sith to recapture the narrative?"